BLOCK PARTY -MEGA STYLE- VOL.2
Mixed by DJ RAYLY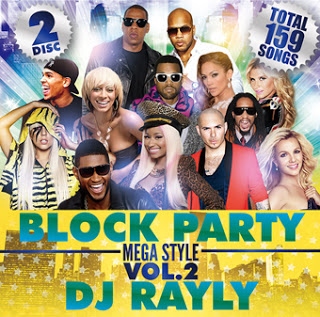 ■形態:MIX CD(2枚組) ■品番:RPCR-002 ■レーベル:RENOX PRODUCTION
■発売日:2013年3月20日 ■価格:1,980円(税込)
前回強烈なインパクトを放ったBLOCK PARTY 第2弾が遂に発売!!!!!これぞ究極のBEST OF BEST
MIIIXXXX!!!!ハンパ無しの全159曲収録!!!!!ベテランDJ RAYLYによる究極のシリーズ『 BLOCK PARTY -MEGA STYLE-
VOL.2』が満を持して登場!!!!!!時代の垣根を越えた鉄板ソングを「これでもかっ!!」とばかりに詰め込んだ正に最強 盤!!!!最新のヒットソングから、2000年前半のお約束パーティーチューン、90年代の 誰もが反応する鉄板ソングまで全てをこの2枚に収録!!!!!老若男女問わずガチでアガる事間違 い無し!!!!!一生聞けるBEST OF BEST MIXをチェック♪♪ (極少限定プレスにつき早期完売が予想される商品となります)
DISC.1
1.INTRO
2.PARTY ROCK ANTHEM/LMFAO
3.YEAR3×/CHRIS BROWN
4.CELEBRATION/DAVID GUETTA
FEAT.AKON&MADONNA
5.SEXY BITCH/AKON FEAT.DAVID GUETTA
6.WHERE DEM GIRLS AT PART2/DAVID GUETTA
FEAT.FLO RIDA&NICKI MINAJ
7.ONE MORE TIME(DISCO FRIES REMIX)/DAFT
PUNK FEAT.FATMAN SCOOP&DISCO FRIES
8.ONE MORE TIME/DAFT PUNK
9.STARSHIPS/NICKI MINAJ
10.BORN THIS WAY/LADY GAGA
11.THE EDGE OF GLORY/LADY GAGA
12.JUDAS/LADY GAGA
13.TILL THE WORLD ENDS(REMIX)/BRITNEY
SPEARS FEAT.NICKI MINAJ&KESHA
14.HOLD IT AGAINST ME/BRITNEY SPEARS
15.YOU MAKE ME FEEL/COBRA STARSHIP
FEAT.SABI
16.WE R WHO WE R/KESHA
17.MORE(REDONE REMIX)/USHER
18.SCREAM/USHER
19.HIT THE LIGHTS/JAY SEAN FEAT.LIL WAYNE
20.OMG/USHER FEAT.WILL.I.AM
21.LOVE IS BACK/FATMAN SCOOP&DISCO
FRIES&DJ SERAFIN
22.SHAKE THEM DICE AND ROLL/PITBULL FEAT.LIL JON
23.DRINK/LIL JON FEAT.LMFAO
24.IN THE AIR/DJ NOODLES
FEAT.PITBULL,LMFAO&LIL JON
25.PUT YA FUCKIN HANDS UP/PITBULL
FEAT.WILL.I.AM&JD
26.IT'S YOUR BIRTHDAY BITCH/DJ FELLI FEL
FEAT.LIL JON
27.DUTCH NATION/MISTER BLACK,ZOMBIE
NATION
28.BARBRAMITE/DUCK SAUCE
29.OFF THE WALL/MICHAEL JACKSON
30.PYT/MICHAEL JACKSON
31.GOOD LIFE/KANYE WEST
32.GOOD TIMES/STAYLES P
33.MY DRINK MY 2STEP/CASSIDY FEAT.SWIZZ
BEATZ
34.DJ PLAY THE BEAT/SWIZZ BEATZ
FEAT.ESTELLE
35.I DO(LATINO REMIX)/LIL JON
FAET.PITBULL,OMEGA&SWIZZ BEATZ
36.PAPER PLANES(REMIX)/MIA FEAT.BUN
B,SWIZZ BEATZ,JIM JONES,LIL WAYNE,RICK
ROSS,50 CENT&TREY SONGZ
37.SWAGGER LIKE US/T.I. FEAT.LIL
WAYNE,JAY-Z&KANYE WEST
38.BROOKLYN GO HARD/JAY-Z FEAT.SANTOGOLD
39.DIRT OFF YOUR SHOULDER/JAY-Z
40.THIS IS MY PARTY/FABOLOUS
41.HEY PAPI/JAY-Z FEAT.MEMPHIS
BLEEK&AMIL
42.BIG SPENDER/FREEWAY FEAT.JAY-Z
43.WHIP MY HAIR/WILLOW SMITH FEAT.BOW WOW
44.PARTY PEOPLE/NELLY FEAT.FERGIE
45.GOOD GOOD NIGHT/ROSCOE DASH
46.6 FOOT 7 FOOT/LIL WAYNE FEAT.COREY
GUNZ
47.BLACK&YELLOW(G-MIX)/WIZ KHALIFA
FEAT.JUICY J,SNOOP DOGG&T-PAIN
48.ALL I DO IS WIN/DJ KHALED
FEAT.T-PAIN,LUDACRIS,RICK ROSS&SNOOP DOGG
49.ALL THE ABOVE/MAINO FEAT.T-PAIN
50.GOT YOUR BACK/T.I. FEAT.KERI HILSON
51.KNOCK YOU DOWN/KERI HILSON FEAT.KANYE
WEST&NE-YO
52.POWER/KANYE WEST FEAT.DWELE
53.OH YEAR/FOXY BROWN
54.PUT IT IN THE AIR/CROOKLYN CLAN
55.MADE YOU LOOK/NAS
56.THROW YOUR HANDS UP/CROOKLYN CLAN
57.OOCHIE WALLY(REMIX)/QB'S FINEST
FEAT.NAS
58.OOCHIE WALLY/QB'S FINEST FEAT.NAS
59.GIN&JUICE/SNOOP DOGG
60.BAD INTENSIONS/DR.DRE
61.GANGSTA NATION/WESTSIDE CONNECTION
FEAT.NATE DOGG
62.THE NEXT EPISODE/DR.DRE FEAT.SNOOP
DOGG
63.LET'S GET ILL/CROOKLYN CLAN
64.OOOH/DE LA SOUL
65.MY LIFE/KOOL G RAP
66.BET YA MAN CAN'T/FAT JOE
67.STILL TELLING LIES/CUBAN LINK
68.RIDE WITH ME/NELLY
69.I'M NOT A PLAYER/BIG PUN
70.STILL NOT A PLAYER/BIG PUN FEAT.JOE
71.100%/BIG PUN
72.NO ESCAPIN' THIS/THE BEATNUTS
73.WATCH OUT NOW/THE BEATNUTS
74.JENNY FROM THE BLOCK/JENNIFER LOPEZ
FEAT.JADAKISS&STYLES P
75.GET RIGHT(PARTY BREAK)/JENNIFER LOPEZ
76.GET RIGHT/JENNIFER LOPEZ FEAT.FABOLOUS
77.DO IT WELL/JENNIFER LOPEZ
78.MO MONEY MO PROBLEMS/THE NOTORIOUS
B.I.G.
79.I'M COMING OUT(LOREN DAWSON
REMIX)/AMERIE
80.SOME LIKE IT/AMERIE
81.1 THING/AMERIE
82.PARADISE/LL COOL J FEAT.AMERIE
83.TAKE YOU THERE/PETE ROCK&CL SMOOTH
84.GET UP/LOST BOYZ
85.GET UP(DJ DEREZON REMIX)/50 CENT
86.GET UP GET IT/BONE THUGS N HARMONEY
FEAT.3LW
87.WHERE IS THE LOVE?/BLACK EYED PEARS
88.BE/COMMON
DISC 2
1.INTRO
2.WHY YOU WANNA/T.I.
3.2 REASONS/TREY SONGZ FEAT.T.I.
4.SAY AAH/TREY SONGZ FEAT.FABOLOUS
5.LEAN BACK/TERROR SQUAD
6.WE THUGGIN/FAT JOE FEAT.R.KELLY
7.WHO'S THAT/R.KELLY FEAT.FAT JOE
8.SNAKE/R.KELLY
9.HONEY/R.KELLY FEAT.JAY-Z
10.TAKE YOU HOME WITH ME/R.KELLY
FEAT.JAY-Z
11.I JUST WANNA LOVE U(GIVE IT 2
ME)/JAY-Z
12.EN WHY CEEQUAL/JUGANOT FEAT.SWIZZ
BEATZ,BUSTA RHYMES&FAT JOE
13.YOU BE KILLIN' EM/FABOLOUS
14.HEADSPRUNG/LL COOL J
15.PUT IT DOWN/REDMAN
16.EVEN IF/METHODMAN&REDMAN
17.DA ROCKWILDER/METHOD MAN&REDMAN
18.HAND ON THE PUMP/CYPRESS HILL
19.HOW I COULD JUST KILL A MAN/CYPRESS
HILL
20.TIME 4 SUM AKSION/REDMAN
21.WHO GOT DA PROPS(MW SMOOTH MIX)/BLACK
MOON
22.GETTO JIGGY/LOST BOYZ
23.NY SHIT/BUSTA RHYMES
24.EVERYDAY/SWIZZ BEATZ FEAT.EVE
25.NOTHIN(REMIX)/CAPONE-N-NOREAGA
FEAT.P.DIDDY&FOXY BROWN
26.LEHHHGOOO/N.O.R.E. FEAT.BUSTA
RHYMES,GAME&WAKA FLOCKA FLAME
27.WUT WUT/CROOKLYN CLAN
28.GET ME BODIED/BEYONCE
29.LIKE THAT/MEMPHIS BLEEK
30.BLING EM OUT/T.I.
31.WHO'S THAT GIRL/EVE
32.RYDE OR DIE,BITCH/THE LOX
FEAT.TIMBALAND,DRAG-ON&EVE
33.RECOGNIZE/THE LOX
34.BOOM/ROYCE DA 5'9"
35.NAS IS LIKE/NAS
36.UNBELIEVABLE/THE NOTORIOUS B.I.G.
37.BIG POPPA/THE NOTORIOUS B.I.G.
38.ONE MORE CHANCE(REMIX)/THE NOTORIOUS
B.I.G. FEAT.FAITH EVANS
39.FOOLISH/ASHANTI
40.STAY WITH ME/DEBARGE
41.I'LL BE LOVIN' U LONG TIME/MARIAH
CAREY
42.BODY ON ME(YOU CAN GET IT ALL
BLEND)/NELLY FEAT.ASHANTI&AKON
43.YOU CAN GET IT ALL/BOW WOW
44.BABY BABY BABY/TLC
45.SHE AIN'T YOU(SWV REMIX)/CHRIS BROWN
FEAT.SWV
46.EVERY ONE FALLS IN LOVE/JENIFER NITTO
FEAT.TOFFY G
47.I'M LOOKING FOR THE ONE(TO BE WITH
ME)/DJ JAZZY JEFF&THE FRESH PRINCE
48.EVERY LITTLE STEP/BOBBY BROWN
49.GIVE YOU MY HEART/TONI
BRAXTON&BABYFACE
50.SURRENDER/JAVINE
51.ICE CREAM DREAM/MC LYTE
52.IS IT GOOD TO YOU/TEDDY RILEY
FEAT.TAMMY LUCAS
53.DON'T WANNA FALL IN LOVE(KNIFE FEEL
GOOD MIX)/JANE CHILD
54.I DO/BLAQUE
55.GOT TO BE REAL/CHERYL LYNN
56.DO YOU WANNA GET FUNKY/C&C MUSIC
FACTORY
57.HERE WE GO AGAIN/JOJO
58.TALKIN' ABOUT YOU/JOJO
59.MORE THAN FRIEND/3LW
60.TAKE ME THERE/MYA FEAT.BLACK STREET
61.I LIKE IT/BLACK STREET
62.I LIKE IT/JOMANDA
63.HAPPY SONG(TONIGHT)/BLACK STREET
64.TELL ME(C&J & DJ WINS
REMIX)/GROOVE THEORY
65.I WANNA LOVE LIKE THAT/TONY THOMPSON
66.CAN WE TALK/SHIRO
67.CAN WE TALK(GANGSTA GROOVE)/SHIRO
68.CAN WE TALK/TEVIN CAMPBELL
69.AIN'T THAT JUST THE WAY/LUTRICIA
MCNEAL
70.ANY TIME ANY PLACE/JANET JACKSON
71.BEFORE I LET YOU GO/BLACK STREET